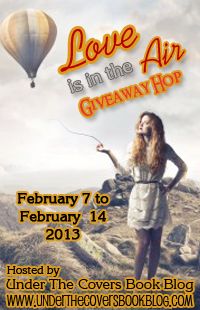 Welcome to the Love is in the Air Giveaway Hop!
To enter the giveaways, follow the instructions under "My Prize Giveaway" below.
The Love is in the Air Giveaway Hop runs from 2/7-2/14, 2013.
Hi everyone. I hope you're having fun hoping with us and that we're putting you in the Valentine's Day mood! To help you along, I'm going to talk about one of my favorite romantic moments in one of my books. No, it's not a sex scene, although many of those are very romantic. LOL.
I like this one because it's a turning point that many of us have, regardless of age or experience, when our relationships go from being casual or tentative to something more serious, more committed. The following is a short excerpt from Deadly Obsession, the first book in my Deadly Vices romantic suspense series.
Nic resumed his chewing and swallowed his mouthful as he got up to check on her. "You okay?"
"Yeah, I'll be fine."
"That'll teach you to laugh at your boyfriend," he teased, joining her at the counter.
She coughed not so delicately into a wad of paper towels and then looked up at him. "My boyfriend?"
He practically growled at her. "What else would I be? You're my girlfriend, so I'm your boyfriend."
Light danced in her eyes. "Your girlfriend. My boyfriend. I really like the sound of that."
"You seem surprised."
"I hadn't thought of us that way."
"Why not?"
She averted her gaze. "You're… who you are, and I'm who I am."
"Exactly." He turned her chin so she had to face him. "You're Lauren James and I'm Nicolas Lamoureux. You're my girlfriend and I'm your boyfriend."
"Well, when you say it like that…." She grinned. "It sounds right."
His hands cupped her cheeks. "It is." He kissed her soft, warm lips.
My Prize Giveaway
In honor of romance, I'm giving away a copy of Romance in the Rain. This is an anthology of six novellas, including "Aftershocks," the prequel to my Six-Alarm Sexy series. To learn more about it, click here to visit my book page. This prize is international, via egift from Amazon, B&N, or Kobo, or via a Smashwords coupon.
Question for you: Have you ever had a moment like that in the excerpt above? Tell us about it. Or, if you'd rather, tell us about your favorite romantic moment in a book.
a Rafflecopter giveaway
More Valentine's Day Fun
In time for Valentine's Day, I have a new release out. Un-Valentine's Day is a cute contemporary romance novelette about a woman who hates the holiday and the man who changes her mind.
It's Valentine's Day, and Noah Jensen has a mad crush on Cassie Ames, a woman who vehemently hates the hearts-and-flowers holiday. Even worse, she doesn't see him as boyfriend material. Can Noah give Cassie a perfectly unconventional un-Valentine's day and move out of the dreaded friend zone--and into her heart?
Amazon
| Amazon UK |
B&N
|
Kobo
|
ARe
|
Smashwords
Keep Hopping!
To keep hopping, please click on one of the links below or return to the main hop site at Under the Covers: http://www.underthecoversbookblog.com/
Have fun~
~Kristine