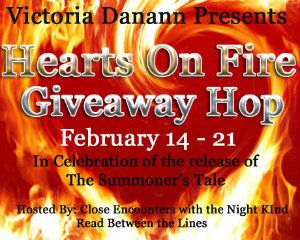 Welcome to the Hearts on Fire Giveaway Hop!
To enter the giveaways, follow the instructions under "Grand Prize Giveaway" and "My Prize Giveaway" below.
The Hearts on Fire Giveaway Hop runs from 2/14-2/21, 2013.
A SUMMONER'S TALE: the vampire's confessor
AUTHOR:

Victoria Danann
PUBLISHER:

7th House
ISBN:

978-1-933320-67-0 ebook

Words: 107,000
978-1-933320-80-9 print

Pages: 350
GENRE:

vampire romance, paranormal romance, urban fantasy, paranormal fantasy
RELEASE DATE:

February 14, 2013
BOOK TRAILER:

http://victoriadanann.me/the-summoners-tale/
BUY AT AMAZON: http://amzn.to/XANiTG
This is the third installment in a serial saga intended to be read in order.
DESCRIPTION: A secret society, a witch, a psychic, vampires, modern day knights, heroes, elves, fae, assassins from another dimension, and fairytales come together where emotions intersect. Two souls, joined by a mystical bond, separated by distance, must simultaneously struggle through pain and darkness in an ultimate confrontation with character and an ultimate struggle for life proving that true love waits patiently through lifetimes and finds courage to survive. Even in the strangest places. Even when you're least expecting it. Even when you're far, far from home.
Erotic quotient: A little steam. No menage. No BDSM.
IMPORTANT: Black Swan Books 2 and 3 are available on Amazon.com exclusively as single titles. However, a The Order of the Black Swan COLLECTED TALES, Books 1-3 will also be released on or around Feb. 14th in e-book everywhere. This is the story as it was intended to be read - without interruption.
ISBN: 978-1-933320-70-0

313,000 words

All three books for $6.99.
INCLUDES:
Book One - My Familiar Stranger: Romancing the Vampire Hunters (nominated for Reviewers Choice Best Paranormal Romance of 2012)
Book Two - The Witch's Dream: A Love Letter to Paranormal Romance
Book Three - A Summoner's Tale: The Vampire's Confessor
Book Four - Moonlight: Big Bad Wolf To release late Spring.
WEBSITE: http://www.VictoriaDanann.com
BLOG: http://VictoriaDanann.me
FACEBOOK: www.facebook.com/vdanann
TWITTER: @vdanann
About Victoria
For the past fourteen years, Victoria has illustrated and authored Seasons of the Witch calendars and planners and written several non-fiction books on magickal arts. She lives in a town north of Houston known as The Woodlands even though the idea of the witch in the woods may be a cliché.
She owns 7th House Publishing and contributes to its enterprises. In addition to art and writing, she plays Classic Rock music (keys, rhythm guitar, vocals) and manages one of Houston's premier party bands. Married. Four children.
Before we get to the prize giveaways, I'd like to tell you a little about my latest release. Need a little something to heat up your Valentine's Day? Jamie Caldwell, the hero of Under His Command knows how to light a woman's fire.
Description
A firefighter desperate to save his failing marriage earns the trust—and the sexual submission—of his controlling wife in the most pleasurable of ways.
After an explosive one-night stand results in pregnancy, Jamie Caldwell is thrilled to marry the perfect foil to his Dom side. But when his submissive wife starts cringing every time he gives a command, Jamie shackles his dark desires. A bout of rough, frenzied reunion sex makes him wonder if now he should free the Dom he's kept in chains and teach Erica the joys of submission and sexual surrender.
Erica Caldwell secretly loved every sinful thing Jamie did to her on their first night together. However, terrified she'll become a codependent doormat like her mother, she repeatedly rejects Jamie's dominance, despite craving the kind of release only he can give her—the release that comes from yielding to Jamie's every demand.
Hoping that the trust required by BDSM will help them rebuild their faith in each other, Jamie and Erica embark on a journey of sexual exploration. But is it too late to repair their crumbling marriage?
My Prize Giveaway
Under His Command is the first book in the Six-Alarm Sexy series, but to gain a better understanding of the characters in the story, it helps to read the prequel. "Aftershocks," the prequel novella, is available as part of the Romance in the Rain anthology.
When Seattle is struck by a devastating earthquake, technical rescue firefighter Jamie Caldwell must save his estranged wife and daughter from the wreckage of a collapsed building. He's defied the odds hundreds of times, but will his luck finally run out for good?
"Aftershocks" is the catastrophic incident that sends reverberations throughout my team of rescue firefighters long after the earthquake is over. The series will follow these brave men and women into their personal lives as they re-evaluate what's important to them. Some will delve deeper into existing relationships, while other will take on new and unexpected partners. Believe me, more than a few are in for some big surprises!
Given that Romance in the Rain is a collective effort, I wrote "Aftershocks" as a romantic suspense. The series that follows is erotic romance.
To enter: Fill out the Rafflecopter below. This prize is international. Egifted via Amazon, B&N, Kobo, or via a Smaswords coupon.
a Rafflecopter giveaway
Grand Prize Giveaway
Besides the one hundred individual blog prizes, we have a ton of grand prizes!
Two Kindle Paperwhites (US-only),
i
ncludes
a book package and a giftcard
Three sets of Black Swan: Books 1-3 paperbacks
signed by Victoria Danann (US only)
Twenty sets of Black Swan: Books 1-3 e-books (Int'l)
$60 choice giftcard (Int'l)

To enter, simply fill out the rafflecopter below.

a Rafflecopter giveaway

The following authors have donated their books. I'd like to take a moment to properly thank them!
Read 2 Review (Kate) and GMTA UK: (5 to 10 books that will be announced)
Danica Avet Winners: choice of backlist
Airicka Phoenix: E-copy of Games of Fire, Touching Smoke, & Touching Eternity
Katie Salidas: E-copy of Moonlight and Sweet Surprises! By Katie Salidas and Willsin Rowe, which also releases on Feb 14!
Sara Trimble: E-copy of A Woman's Revenge
Michelle Graham: E-copy of Landing the Big Ones
Kim Mullican: Yoder's Farm, Taking Control (Book 1 Control Series), Control (Book 2 Control Series), Immortal Decision
Cambria Hebert: Ecopy of Recalled and a Winners Choice from the Heaven and Hell Series Ecopy
M.L. Stephens: Ecopy of Love You More
J Kelly Acinni: 5 sets of paperback copies of Baby and Echo US only
Susan Griscom: Reflections and Whisper Cape
MaryLynn Bast: Heart of a Wolf Series
Susan D. Taylor: Secret Desire
Tara Lain: Beach Balls
And a big thank you to: Dani-Lyn Alexander, Lisa Simington, Kym Grosso, and Liberty Ann for making the giftcard possible!!!
Keep Hopping!
To keep hopping, please click on one of the links below or return to the main hop site at the main hop site:
http://closeencounterswiththenightkind.blogspot.com/2012/12/hearts-on-fire-giveaway-hop.html
Note: For more chances to win, click on the Blog Hop graphic at the top of the page. I have other blog hops and contests going on right now. :)

Have fun!
~Kristine